Earlier this month, the city of Aliso Viejo debuted its renovation of the historic property of the pioneering Moulton family. Now the Aliso Viejo Ranch, located at 100 Park Ave, its objective is to highlight the agricultural past of Orange County, complete with relics from the 1800s. A historically significant undertaking that was years in the planning, Precision was pleased to work with the city on this project.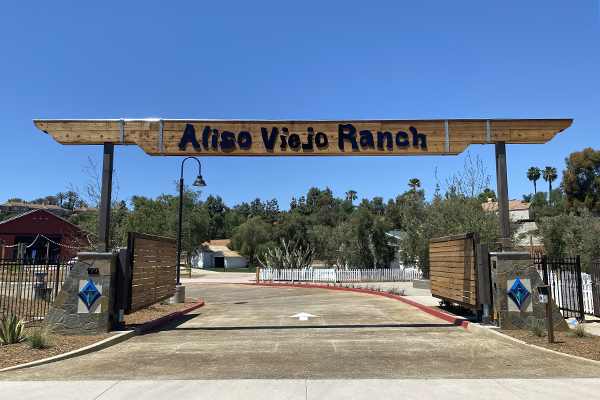 The Aliso Viejo Ranch is a multi-disciplinary space that will feature hands-on educational classes and community programs, farm-to-table dinners, and special events. It is also a working farm that will demonstrate the future of sustainable agriculture and aquaponics. Food grown and harvested here will be donated to local food banks.
A truly unique project with many goals, there was a combination of new construction and restoration of old buildings at the Aliso Viejo Ranch. The original barn was deconstructed piece by piece and treated for preservation, and then reconstructed with a foundation and utility hook-ups. A new barn erected on the site is a replica of a building that used to be on the ranch—its design was based on old photos and lumber receipts. Precision sealed the corrugated roof interior to preserve the rustic look and feel of the structure. We also installed wall planks and painted the ceiling black.
There are quite a few architectural and design elements around the property. Precision was responsible for sealing the raw wood of the fencing and of the entrance sign that greets visitors to the ranch. We also painted the white picket fencing, sealed all the concrete, and painted the trash enclosure. These are the kinds of details that really make a job feel complete, and will help maintain the site for years to come.
For more photos of Precision's work on the Aliso Viejo Ranch, check out our project page. You can also view a time-lapse video of the construction site here, or see the City of Aliso Viejo's official video here. Additionally, there is a recent article in the Orange County Register that provides more details about the ranch project, its partners and collaborators, and its goals.