Wallcoverings for commercial spaces can come in a variety of textures, patterns and styles. In a commercial space, wallcoverings are often preferred over paint in certain areas for reasons of  aesthetics and durability. You can find wallcovering in places such as restaurants, schools, hotels, medical facilities, offices, living centers and much more. Wallcovering is sturdy and made of heavier material, thus perfect for heavier trafficked areas. The benefits of wallcoverings include:

Acoustic benefits

Maintenance benefits


Acoustic benefits refer to the amount of noise that wallcoverings reduce inside of the room. Movie theatres, hotel rooms, condos and private offices all benefit from sound absorbing wallcovering.
Maintenance benefits include wallcoverings that are scrubbable or washable and easy to maintain in high-traffic areas. Unlike paint, wallcoverings do not need to be consistently retouched due to scuffs, chips and cracks, which can add up to long term cost savings.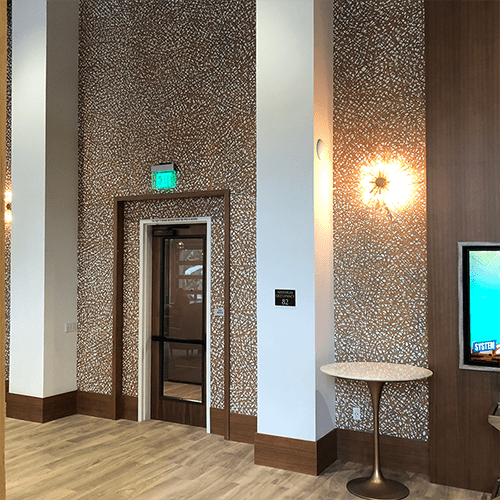 Wallcoverings can add to your interior design details and can really help your commercial space stand out. Whether you're looking to refresh your office space or completely redesign a restaurant or hotel, you can achieve a unique style using wallcoverings.

Commercial wallcoverings are versatile and customizable to your business—there's an option for every type of space! Wallcovering should always be installed by a professional; you want to ensure everything is lined and placed correctly. If you're looking to add wallcoverings to your commercial space, give us a call!