Have you decided to give your walls a refresh? That's great news! The easy part is choosing a reliable and high-quality painter like Precision Wallcovering to handle the job. The hard part is choosing just the right colors. For homeowners, choosing a wall color can sometimes be a time-consuming and bewildering task. But don't feel overwhelmed—we're here to help. Check out these useful tips on how to choose paint colors, and you'll be on your way to beautiful rooms in no time.
Refer to Your Favorite Pieces
If you have a beloved chair, photo, rug, or throw pillow, look closely at it. What is it that drew you to it in the first place? If the color palette is one of the best things about your favorite painting, for instance, think about how you can incorporate that into the wall color. You can even bring smaller items to your local paint store to refer to as you browse, or take home some samples to find an exact match or complementing color. The best part is that your new walls will go great with your favorite existing pieces.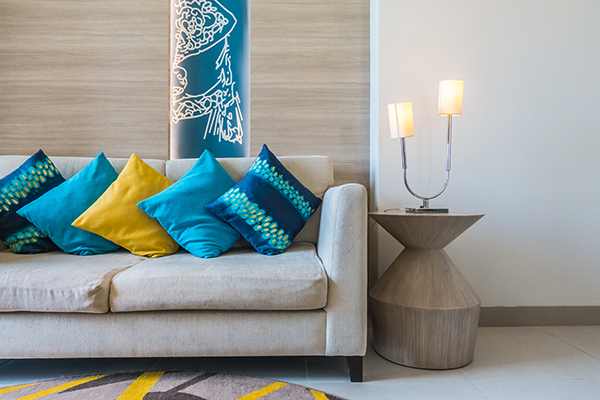 Consider the Flow
Think of your house holistically. The colors you choose for each room should go together, particularly if you have an open floor plan where there are fewer walls to delineate separate areas. This is also especially important for adjacent rooms and transitional spaces such as hallways. Several different colors can work together if there is a theme tying them together. For instance, a large focal element like a natural stone fireplace might be a good reference point—you can play off earthy grays and browns to give your house a cohesive feel.
Take Advantage of Color Collections
Most major paint brands work with designers and artists to come up with color collections suitable for every room in your house. They carefully select combinations of colors that work beautifully together, taking the guesswork out of the equation for homeowners. This can be a great place to start if you are in need of ideas to get you started.
Don't be Afraid of Color
Incorporating a bright or bold paint color is an easy way to add some liveliness to your home. No need to go crazy with it (unless that's your style!). You might choose just one accent wall to paint a bold color that still works well with the other colors in the room and house. It's a great way to create an instant focal point without overwhelming the other design elements in the space.
Now that you've got some good tips on how to choose a color, when you're ready for your project to get underway, get in touch with Precision Wallcovering and Painting. You can rely on our experienced painters to bring a high level of service and quality to your job. Give us a call to find out how easy and affordable it can be.