Precision Wallcovering and Painting recently completed some pro bono painting work at the Delhi Community Center in Santa Ana. A few of our residential and commercial jobs were put on hold during quarantine, but we wanted to keep our team members working as well as give back to our local community. Many of our crew are from the area that Delhi serves, so it seemed like a fitting place for Precision to be of service.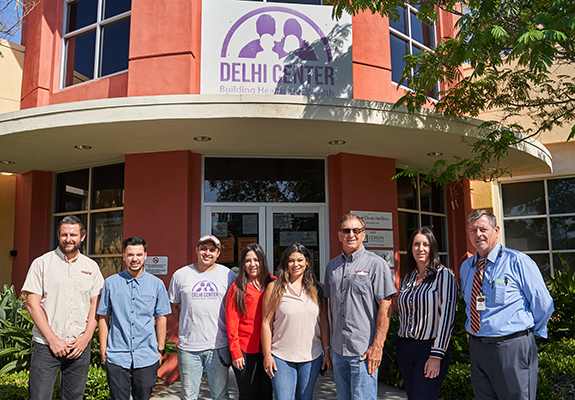 Our painting work at the Delhi Center included classrooms, an auditorium, and the ballroom. We were very happy to partner with Dunn Edwards, who donated all the paint for this project, and World of Moulding, who donated the chair rail we replaced to spruce up the rooms. It looked fantastic after we were done, almost like new, and a was great example of how dramatically a fresh coat of paint can update a space.
The Delhi Center is a community non-profit that has been around since 1969. Their mission is to advance self-sufficiency through sustainable programs in health, education, financial stability, and community engagement. It also acts as a gathering place for local residents and organizations, as well as being an event space for things like parties, weddings, and workshops. You can see why it is important that their facilities look fresh and well-maintained!
Providing our services pro bono to a community non-profit is one of the ways Precision is happy to help out areas that are particularly impacted during this tough time. It is also especially important to us to take care of our employees and keep them working, and we're so glad we have been able to do that as well. If you have been thinking of home or office improvement, now is a great time to get started. Give Precision a call and see how easy and affordable your next project can be!