Precision Wallcovering & Painting recently had the pleasure of working on a full renovation of Regal Mission Marketplace & RPX Theater in Oceanside. The project encompassed ten theaters, plus a "Regal Premium Experience" theater. For this renovation, we were subcontracted by Aspen Builders, Inc. to get this project completed.
Exterior renovation included painting of the facade and monument sign.
Lobby renovations included painting throughout, with a high-performance coating at high traffic areas called "Dryvit-Freestyle" finish. This provides a durable wall finish resistant to scuffs and markings.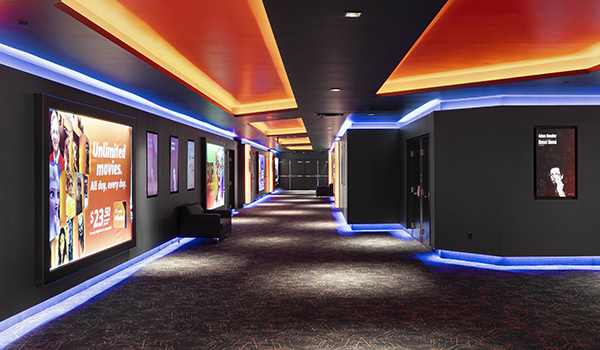 We did complete interior painting throughout the lobby, promenade, theaters, projection booths, and management offices. All eleven theaters were fully renovated, which included new paint and wall carpet throughout, as well as miscellaneous floor coating.
We had a few challenges on this project, including water leaks during construction, a sporadic schedule, and some drywall issues. But thanks to our expertise and years of experience, we were able to complete the job and get everything looking great. What can Precision Wallcovering & Painting do to help your home or business look its best? Give us a call today to discuss your next project.